Architecture has the power to transform landscapes and capture the essence of an era. Emblematic buildings bear witness to the genius, audacity and vision of architects. Whether it's skyscrapers that defy the sky or ecological structures, these projects stand out in history and become benchmarks for future creations.
In this article, we will analyse five of these projects in depth, highlighting their relevance and the impact they have left on society and culture.
Examples of emblematic projects
---
Here are some examples of emblematic architectural projects from around the world:
Burj Khalifa
Opened in 2010, the Burj Khalifa is a mix of residences, offices and the luxurious Armani Hotel. Its design, inspired by the Hymenocallis, a desert flower, features a triple petal shape that maximises the view of the Persian Gulf.
The project's principal architect is Adrian Smith, who worked with the firm Skidmore, Owings and Merrill.
Technical specifications:
Construction date: 2004 – 2010.
Capacity: 163 habitable floors.
Location: 1 Emaar Boulevard, Dubái.
Main materials: Reinforced concrete and steel.

Beijing National Stadium
Known worldwide as the "Bird's Nest" for its lattice design, this stadium is a representation of China's spirit of innovation. Its structure is also resistant to earthquakes, a key feature in the region.
The stadium has been equipped with solar energy and rainwater harvesting systems. It was designed by architects Jacques Herzog and Pierre de Meuron.
Technical specifications:
Construction date: 2003 – 2007.
Capacity: Originally 91,000, now 80,000.
Location: Beijing, China.
Main materials: Steel and transparent membrane.
30 St Mary Axe
30 St Mary Axe, popularly known as "The Gherkin", is a neo-futurist commercial skyscraper located in the City, the financial heart of London, and has become one of the city's most iconic buildings.
It was designed by architect Norman Foster and his former partner Ken Shuttleworth.
Technical specifications:
Materiais principais: Aço (estrutura diagrid).
Construction date: 2001 – 2003.
Height: 180 metres
Capacity: 40 storeys.
Location: London, England, United Kingdom.
Main materials: Steel (diagrid structure).
NY Metropolitan Opera House
The Metropolitan Opera House, also known as "The Met", is an opera house located on Broadway in Lincoln Square on the Upper West Side of Manhattan in New York. It is part of Lincoln Centre. It opened in 1966, replacing the original 1883 Metropolitan Opera House on Broadway and 39th Street.
The 14-storey building, including 5 basements, features advanced technology and systems such as hydraulic lifts and motorised stages, facilitating the staging of complex opera performances. The Metropolitan Opera House was designed by architect Wallace K. Harrison.
Technical specifications:
Construction date: 1963 – 1966.
Capacity: 3,850 seats.
Location: 30 Lincoln Center Plaza, New York City.
Main materials: iron and reinforced concrete (structure), white travertine and glass (façade).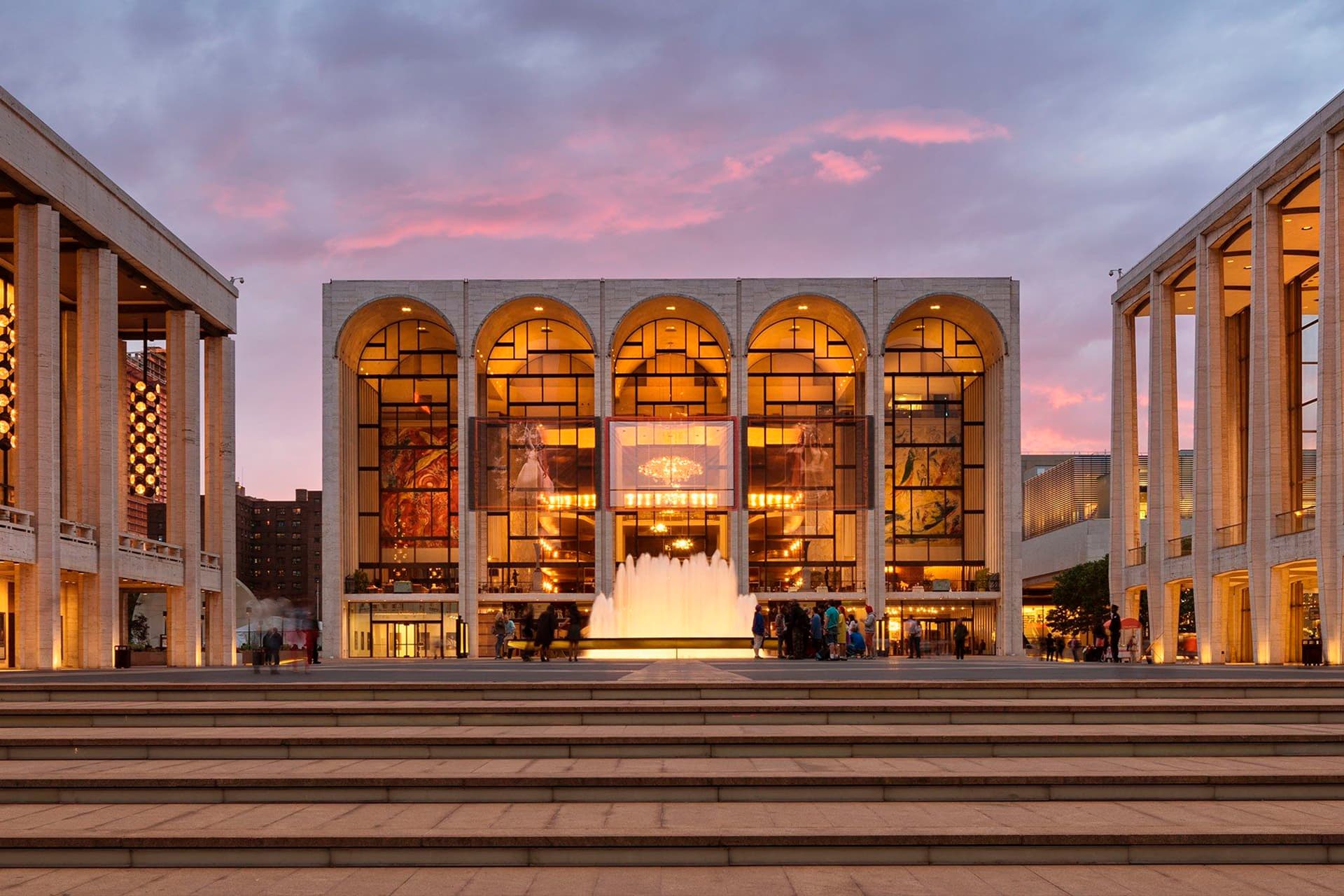 Glòries Tower (formerly Agbar Tower)
With a shape reminiscent of a geyser reaching for the sky, the Glòries Tower, formerly known as the Agbar Tower (an acronym for Aguas de Barcelona), has become one of Barcelona's most recognisable structures. This tower marks the entrance to Barcelona's tech neighbourhood, known as District 22@.
Its night-time lighting is particularly remarkable, with thousands of LED devices that create light shows. It was designed by architect Jean Nouvel in collaboration with b720 Fermín Vázquez Arquitectos.
Technical specifications:
Construction date: 1999 – 2005.
Height: 144 metres
Capacity: 34 floors above ground and 4 underground.
Location: Avenida Diagonal, 211, Barcelona, Catalonia, Spain.
Main materials: Concrete (structure), aluminium and glass (exterior façade).
Impact of emblematic projects
---
Emblematic projects have a significant impact on culture and society. They can help revitalise a city, promote a new artistic movement or simply inspire people to appreciate architecture.
The Burj Khalifa contributed to Dubai's transformation into an international business and tourism centre. Beijing's National Stadium was a symbol of globalisation and innovation during the 2008 Olympic Games. 30 St Mary Axe inspired other architects to design more sustainable and efficient buildings. The Metropolitan Opera House has contributed to enriching New York's cultural life. The Agbar Tower contributed to the renewal of Barcelona's harbour area.
Conclusion
---
Architecture isn't just construction, it's art, it's history and it's legacy. The emblematic architectural projects we've explored are perfect examples of how creativity and innovation can transform the environment and leave an indelible mark over time. For architects in training or in practice, these works are inexhaustible sources of inspiration and learning.