Today we talk about Cool Roof or Cool Roofing and reflective roofs, which allow us to reduce the interior temperature of buildings by reflecting the sun's heat. 
We will delve in detail into different aspects and see the advantages that this type of roofing brings to buildings.
What is cool roofing? 
---
Reflective roofs called 'Cool Roof' are surfaces that strongly reflect solar radiation, i.e. they have the ability to reflect the visible, infrared and ultraviolet wavelengths of the sun, reducing heat transfer to the surface, and have a high thermal emittance.
In countries with a lot of sun, such as Portugal, Spain or the Mediterranean countries, cool roof solutions are suitable for virtually all buildings.
This is because white cool roofs have high heat reflectance and emissivity and reduce the dreaded "heat island effect" bringing tangible benefits.
Let's now look at some interesting terms that will allow us to better understand cool roofing such as "heat island effect" and "SRI".
What is the "heat island effect"?
In cities, building roofs account for 22% of the total surface area, and almost 30% of a building's energy is lost if they are not properly designed and installed, as pointed out by the Association of Waterproofing Manufacturers of the Iberian Peninsula (AIFIm).
That is why in summer, when temperatures are high, the phenomenon of the "urban heat island" (a thermal phenomenon caused by the temperature difference in the center of cities) causes an increase in electricity consumption, air conditioning costs and, consequently, pollution.
This is where a Cool Roof comes into play, allowing the temperature increase to be reduced, reaching temperatures of around 40°C compared to 80°C with conventional roofs. 
What is SRI or solar reflectance?
Solar reflectance is the property of a material or surface to reflect solar radiation. 
A surface with high solar reflectance reflects most of the sun's rays and is therefore cooler. Light colors, especially white colors, have a high reflectance to the sun. The solar spectrum is adjusted from 0 to 1 or in percent.
To achieve a roof with a high SRI (Solar Reflectance Index), white waterproofing products are available that reduce heat gain due to their reflectivity and offer excellent resistance to ultraviolet (UV) radiation.
Energy savings can be achieved by using white, highly reflective, high SRI, low contamination, high thermal performance membranes. These membranes prevent the roof from absorbing all incident UV radiation, thus preventing the surface from heating up and transferring heat to the interior of the building.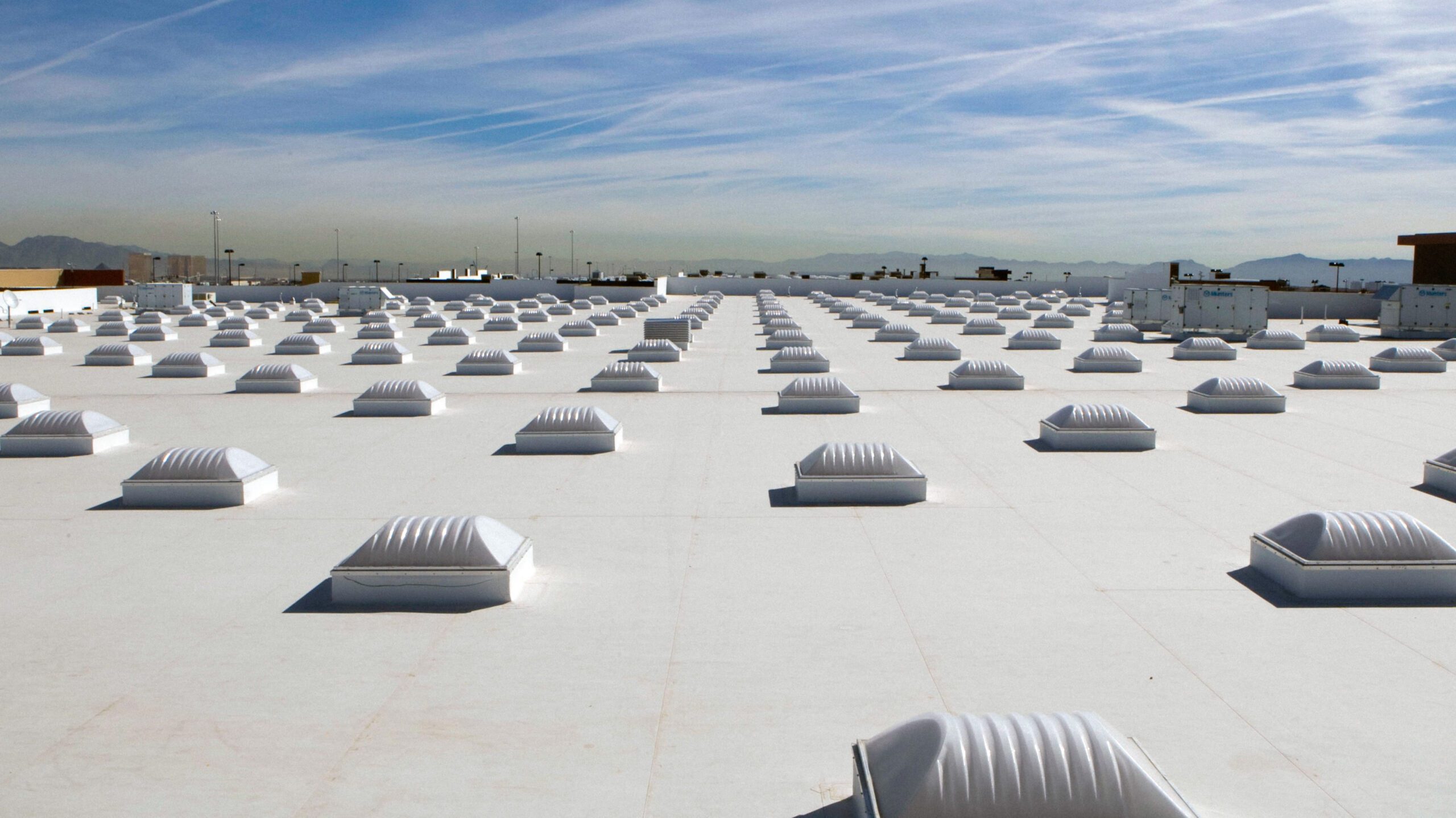 Advantages of a white Cool Roof
---
Chilled ceilings would not be so highly recommended if they did not have some clear advantages and that is why we are going to talk about the most outstanding ones below:
They reduce the temperature
Cool Roof reduces the temperature of the roof during the hottest hours of the day.
Asphalt, catalytic or gravel roofs can reach temperatures of up to 60°C and even 90°C. 
A cool roof keeps the temperature in the 30-40°C range under the same conditions.
Reduces energy costs
Cool Roof lowers the temperature and that helps to reduce energy consumption when cooling buildings and consequently energy bills are reduced.
There is a large amount of research and scientific literature on cool roof systems, which shows that they can provide energy savings of 20-50%, depending on the situation, type of installation and environmental circumstances.
Improves the durability of the roof
Cool Roof is able to prolong the life of the roof and waterproofing layer.
Roofing membranes and other membrane systems suffer greatly from the effects of the sun and the atmosphere. This shortens their service life and leads to cost overruns in repair, maintenance and replacement.
Thermal coatings used for cladding are 80% ceramic, with an average manufacturer's warranty of 10 years and a service life of 25 years or more.
Improving the performance of photovoltaic panels
Cool Roofing improves the efficiency and performance of the panels in two ways:
At the thermal level:

a white Cool Roof reduces the roof temperature by up to 40 °C, which means an increase of

20 to 80% of the PV module's electrical output.
In terms of luminosity:

the white reflective material considerably increases the albedo of the surface and therefore reflects a large part of the solar energy.

This reflective property can lead to an increase in yield of up to 25%.
Easy to install
Cool Roof roofs are compatible with most waterproofing systems.
Working only on the roof, the Cool Roof system does not affect the performance of the building, regardless of its type: commercial, industrial, public or residential.
The Cool Roof system can be installed on roofs made of asphalt, sheet metal, fiber cement, glass, plastic, TCO, VPC, etc.
Achieving energy certifications
The use of Cool Roof is part of some energy and sustainable building certification programs, including standards such as Passivhaus.
Final conclusion
---
The installation of Cool Roofs is highly recommended in areas where heat presents a problem in energy conservation and excessive energy consumption for cooling buildings.
In regions of the USA and Southern Europe these types of installations are widely used but are increasingly being used in different regions for all the benefits it brings and its relatively low cost of maintenance and installation.